Dan Inglima, my friend from North Carolina (who I feel must have been my brother in some previous birth) drove down to receive us at New York JFK Airport. That's Dan in the picture. His brother Steve Inglima is driving the VW Bus. Debbie, Steve's girlfriend, is in the other front seat.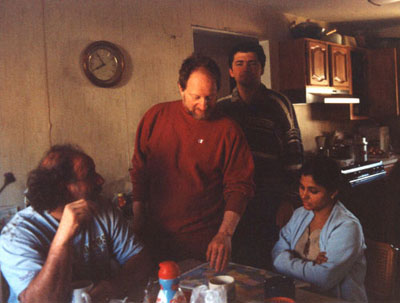 Dan, Steve, Dharma and Marius (Dan's friend from Lithuania) at Steve's breakfast table. We were Steve's guests at his home on Long Island.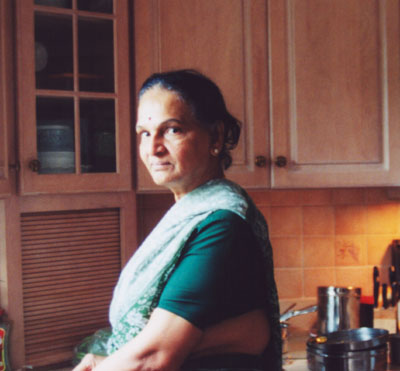 Once we finished with the photography for the project, Dharma and I moved to the house of our friend Ananth P Govindan in Edison, New Jersey. That's his mother Rajayima in the above picture. She is one of the most loveable people you could ever meet anywhere - totally orthodox and wholly practical - a truly wonderful lady.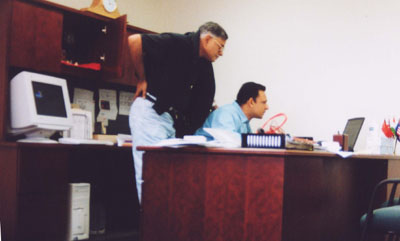 Anand decided to drive us to Niagara for the Memorial Day weekend. I am with AP in his Edison office while he checks out route-directions online. The actual directions when printed out ended up giving us every single turn starting from the one down his street in Edison to the hotel we were to check into in Niagara.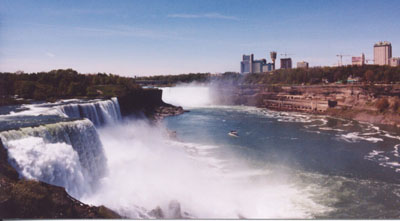 This picture postcard stuff is something I shot. (But then Niagara is spectacular even if photographed with a box-camera!)
Dharma and I pose in our Maid of the Mist gear.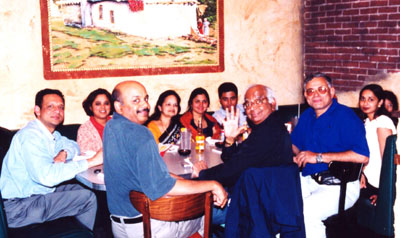 Dharma's chithappa (father's younger brother) R. S. Vasan an attorney in Canada, his wife Pushpa and daughter (also named Dharma), and Dharma's cousin (father's sister's son) Dr. Krishnan Shankar, his wife Jayanthi and son Kaushik drove down from their homes in Canada, to join us at Niagara. We had dinner together at Pedro's a popular place for Mexican food (and of course Corona Beer!). Apropos the two Dharmas, the confusion is confounded by the fact that Dharma's father had a sister at Coimbatore who also named her daughter Dharma. My Dharma's paternal grandmother was Dharmambal and in her memory, those of her children who were blessed with a daughter named her Dharma too. To distinguish between the various Dharma's in the family, the Coimbatore Dharma is "Periya" (big) Dharma, my wife is "Chinna" (small) Dharma and the third Dharma is quite obviously "Canada" Dharma!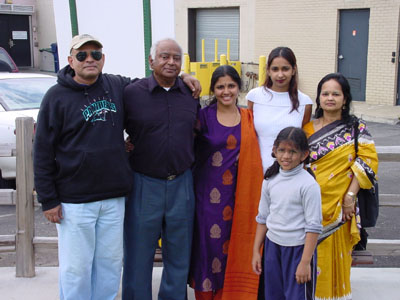 At the carpark of the motel where we spent the night talking and catching up with Vasan and family. The young girl in this picture is Aparna (Anand's daughter)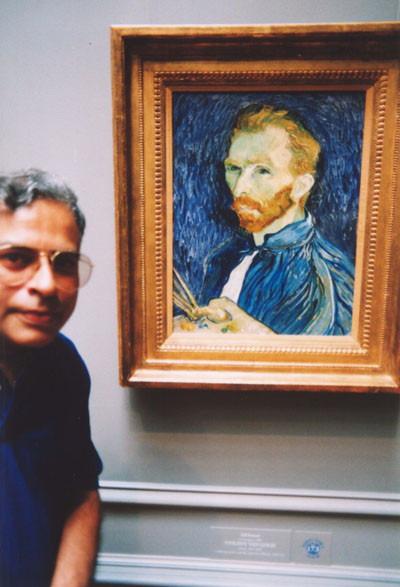 Anand also took us to Washington DC. The Smithsonian was our first exposure to a major art gallery. This was the first time I saw in real size, real colour and in original so many well remembered paintings I had seen reproductions and colour plates of - none of which did justice to the splendour of the original. This self-portrait by Van Gogh moved me to tears. Is it not strange that the work of so many great artistes become collectibles after their lifetimes, while they see little or none of the wealth their work represents?
I had Dharma stand beside this Renoir so you could have an idea of the size of the actual painting. Having seen this same painting in many books of famous paintings, it was like meeting an old friend when I saw this young dancer.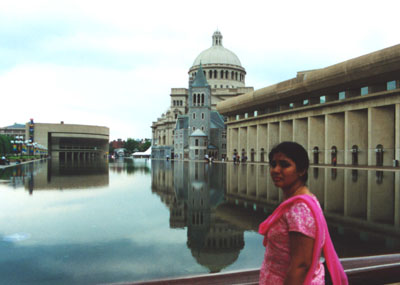 From Edison, New Jersey we took the Greyhound to Nashua, New Hampshire where a friend put us up at his home. Dharma and I took the train into Boston, Mass. for sightseeing. In this picture Dharma is reflecting at a reflecting pond in Boston.
We planned our trip to the West Coast so we could spend a day at Houston where Dharma's mother's brother's son Sriram and father's sister's son Ram work. (It does look like most of Dharma's family is in the US and in the IT industry!) Anyway Sriram and Ram got us from the airport (where the pic was taken) and after dumping our luggage at his home, we ate a late dinner (3 a.m.) at Alibaba the only place in Houston still open for business (a Pakistani restaurant) where we had hot, spicy (and greasy) gravies with rotis and parathas. We spent the whole night talking since our flight out was the very next evening and there was so much news to exchange.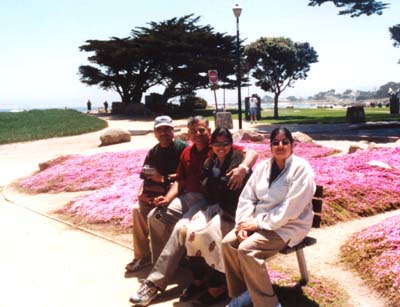 From Houston we flew to Los Angeles. We transferred to a Day's Inn at Anaheim (visits to Walt Disney Park, Universal Studios, LA and Hollywood). I am not posting any of the pictures from those places. We then flew to San Jose where we stayed with our friends Shivakumar Natarajan and his wife Padma. Shivakumar and Padma took us to Monterey Bay and a Scenic Drive. We have lovely pictures from this leg of the trip but I am only posting this one where Shivakumar and Padma are also in the frame.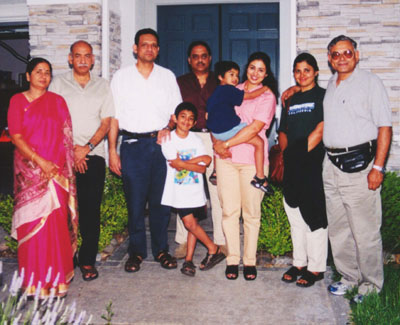 My cousin (father's sister Jayalakshmi's son) Babu, his wife Vanaja, their daughter Jaishree, her husband Chadrashekhar, their children Arjun and Krishna with Dharma and me. We stayed with Jaishree and Chandrashekhar for a few days and visited San Fransisco from thir home. Anand who has an office on the West Coast timed his visit to our reaching there after our visits to LA and Anaheim.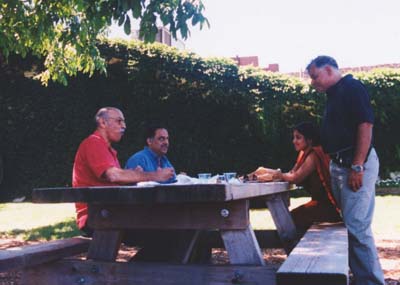 Chandrashekhar takes us on a drive of the wine country where some of the finest Californian wines come from. We had a lunch of wine, breads and an assortment of cheese and discuss the Bhagvat Gita at the V Settui Vinyard. He drove us back along the Old Silverado Trail. The entire trip was most scenic and thoroughly enjoyable.
From Jaishree's house we took the train into San Fransisco for sightseeing. Jaishree and Chandrashekhar were so very kind to us - they even gave us a phone so we could call them if we got lost somewhere! Dharma tries out the phone from the train on our way into SFO to make sure we have their numbers right and to tell them we managed to get onto the right train!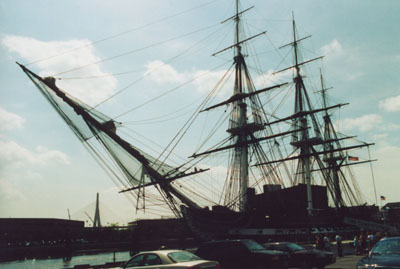 We take the trolley-car tour of SFO. This pic is of the USS Constitution which is completely restored and open to visitors (if you are not Asian, and if one, do not mind a body search!) We saw it from the quay!
Mohan Natarajan (my father's sister Saraswathi's grandson) took us to his home in San Jose. His wife Uma and her parents made us welcome. Their son Neil is in school. Mohan had taken the day off to take us sightseeing. He took us to the Bay Bridge, the Golden Gate, Muir Woods, halfway up Mount Tamalpais (when we took a wrong turn somewhere) and when back in San Fransisco to The Presidio, Nob Hill and Chinatown. He also introduced me to Clam Chowder.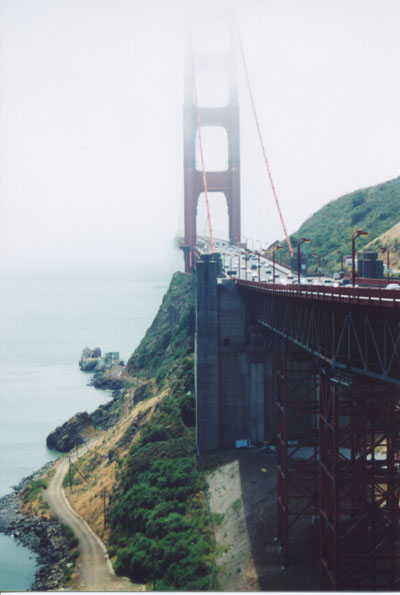 The Golden Gate Bridge emerges from fog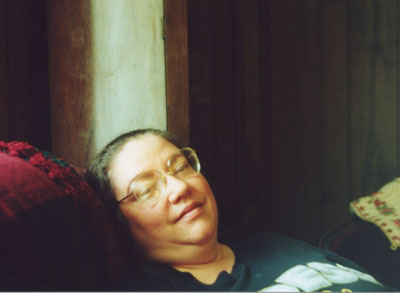 From San Jose, we flew to Atlanta, Georgia where Dan Inglima had driven down from his home in Haysville, NC to receive us. Also at the airport to meet us was my old associate Ravindra Babu's brother who is a Doctor in Atlanta. It was a little over three hours drive from Atlanta to Haysville. In the pic is Barbara, Dan's wife.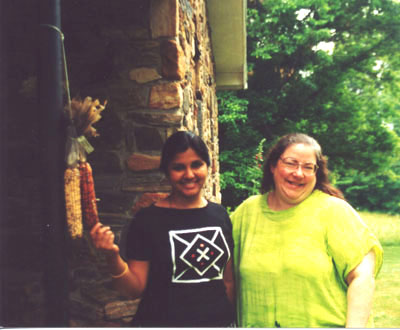 Dharma and Barbara became great friends.
Dan and Barbara take us to what Dan modestly refers to as "the land" (it turned out to be half a hillside!) where he is planning to build his new home, office and factory. He is clearing the trees and undergrowth and levelling the land where the buildings will come up as and when he finds the time away from the SB Project he is helping me with.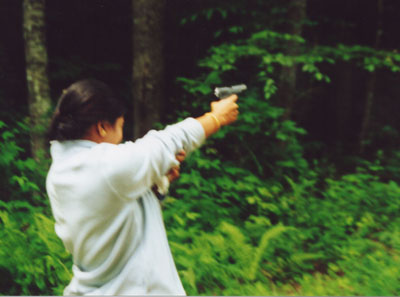 On another trip to "The land", Dan brought along his collection of handguns, rifle and shotgun. We used up all his ammo firing at an old can. Even Dharma tried her hand at shooting. The expression on her face when she whirled round after pulling the trigger of the Uzi in her hand (it went off with a flash and bang) would have made the better picture.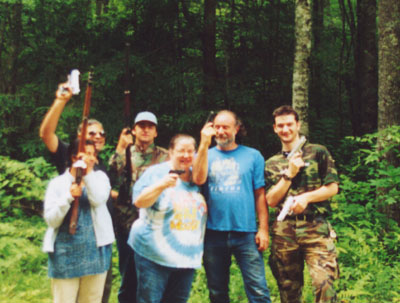 The Shooting Party. Also in the pic are Dan's friend Marius (remember him from the Long Island pics?) and Joshua Inglima, Dan's son.