Long, long ago in a village far, far away ...
In about 1875 in a hamlet called Srivanchiyam in Nannilam Taluk of what was then Thanjavur District (and now part of Tiruvarur District) lived a devout soul by name Subbarama Iyer. He had no wants since his modest needs were accommodated within his meager means. An ardent devotee of Lord Ganesha, Subbarama Iyer was also a gifted composer who composed many kirtanams, which sad to state, are no longer extant.
Srivanchiyam is best known for its Sri Vanchinathar Temple. Subbarama Iyer would have his ritual bath in the temple tank (then and even now called "Gupta Gangai". Legend has it that Goddess Ganga herself comes to Srivanchiyam and bathes in the temple tank to cleanse herself from the sins washed off in her waters by pilgrims). Subbarama Iyer would wash his Veshti in the tank and clad in the wet cloth enter the sannadhi for his daily worship.
Legend has it that Subbarama Iyer was one night disturbed in his sleep by a voice which kept insisting "turn and see" (Thiruppi Paar). Subbarama Iyer got up from bed the next morning unable to explain his experience of the night just passed. As was his routine Subbarama Iyer went to Gangai the temple tank that morning too. While he was bashing his veshti on a stone in the temple tank, again he heard the voice "turn and see" (Thiruppi Paar). Subbarama Iyer turned hither and thither but the source of the voice could not be found nor was anything else out of the ordinary. Finally it struck Subbarama Iyer to turn over the stone against which he had been washing his veshti. The stone against which he had been washing his cloth for decades turned out to be a beautiful and even then old idol of Lord Ganesha.
Subbarama Iyer installed the idol in a small shrine outside the main temple of Sri Vanchinathar and made provision for its daily worship. This Vinayakar came to be worshipped by the village folk also.
Subbarama Iyer was survived by his sons Subbarayar, Mangaleswarar and Ganapathy Iyer.
Mangaleswarar's son Rao Saheb Vaidyanatha Iyer was an instructor at Kumbakonam and later at Kozhicode and won renown as the author of a book on Bookkeeping. Rao Saheb Vaidyanatha Iyer, it is said, was also known as Lady Vaidyanatha Iyer because of his fair complexion and elegant handsome appearance.
Rao Saheb Vaidyanatha Iyer's progeny were Muthuswamy Iyer and Sundaram Iyer.
Muthuswamy Iyer remarried after the death of his wife and was survived by his daughters Janaki, Meenakshi, Kamala, Pattu and Valambal.
Sundaram Iyer married Parvathi (alias Chellammal) who predeceased him, and was survived by Rajam (born 10/02/1919), Jayalakshmi (born 25/07/1920), Saraswathi (born 25/08/1922), Balachander (born 18/01/1927) and twins Karpagam and Gopalaswamy (born 08/04/1929).
Over the years, the links of the descendants of Subbarama Iyer with the Vinayakar he had installed in a shrine he had instituted at Srivanchiyam, dwindled.
My father Veena Vidwan Balachander, son of Sundaram Iyer, died on 13th April 1990. As far as I know, he had never visited Srivanchiyam during his lifetime.
In October 2000, my mother (Shantha Balachander), my wife (Dharma), and children (Baradwaj, Tara and Surya) and I, drove down to Srivanchiyam specifically to locate and identify this family temple, of which we had so far only heard, but never visited.
The temple itself, we found, exists to this day, and the Vinayakar installed by Subbarama Iyer continues to receive worship from the residents of Srivanchiyam whom He continues to protect. I could only believe that this Vinayakar had summoned us there, for, when we went there what did we see but a dilapidated temple and ongoing work of repair and restoration. The village people had contributed Rs.100 per family and commenced the restoration. The extent of work involved had already by far exceeded their available resources. After making our own personal contribution for the restoration project we returned to Chennai. (Below are photographs of the shrine as we first saw it!).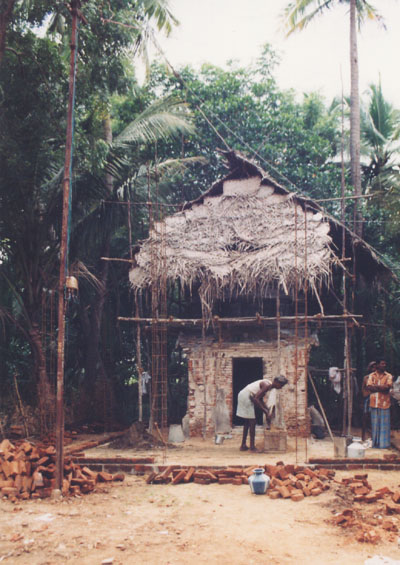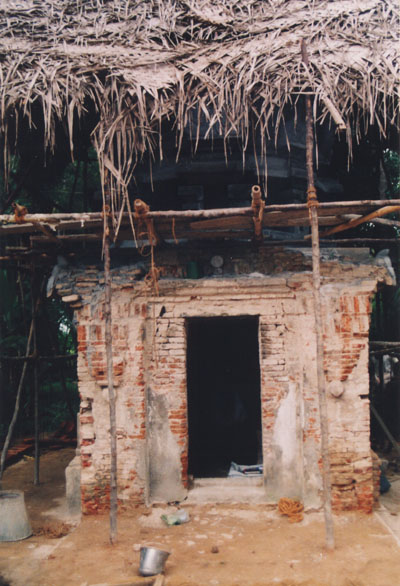 I mailed all descendants of Subbarama Iyer I knew and appealed for their contribution and participation in the restoration of this ancestral temple. The response was overwhelming and profoundly moving; almost everybody came forward to contribute for the success of the project. Many were kind enough to circulate the appeal to others in the family they had addresses for. Some confirmed having heard of the "Thiruppi Paar" legend in their childhood. Also significant was the response from well-wishers who were not descendants of Subbarama Iyer but to whose notice the appeal came through the good offices of those relatives to whom the letter was sent. It would appear that even they were inspired by the project since they saw fit to send in sizeable donations too.
In connection with this project, I made follow up trips in November and December 2000 and in February 2001 to be satisfied that the renovation work was progressing satisfactorily and without hitch.
The timing of my visit in February 2001 proved to particularly fortuitous. My cousins Ram Murthi and Gurumurthi sons of my paternal uncle Rajam, were with me on this visit. We reached Srivanchiyam on Saturday 10/02/2001 evening to learn that the first instalment of funds which I had handed over on 30/11/2000 had dwindled to less than Rs.300 since thanks to our donations, the work had progressed at a far more rapid pace and grander scale than originally locally envisaged. When we reached, we were also informed that on the morning of the next day (Sunday 11/02/2001), a Homam had been planned (despite the meager funds available) preparatory to our Vinayakar being shifted from His present shrine to a neighbouring Temple, so as to allow repair work in His Sanctum Sanctorum. Given the timing of our visit, we spent Saturday night at Srivanchiyam, Sunday morning we bathed in the Gupta Ganga (the very same Temple Tank of Srivanchiyam's Vanchinatha Swami Temple where Subbarama Iyer daily bathed and where our Ganesha made Himself noticed by Subbarama Iyer) and went directly to the Ganesha Shrine which is outside the main Temple. Thus some representation from Subbarama Iyer's descent was there to participate in the Homam from Sankalpam onwards - and see that his Ganesha was safely shifted to temporary lodgings until His shrine was ready for Kumbhabhishekam.

(Photographs from this visit where a special homam was done preparatory to our Vinayagar being moved to temporary lodgings at an adjoining Mariamman Temple are below).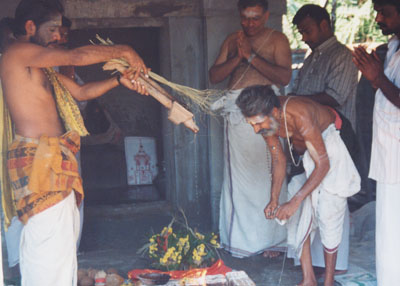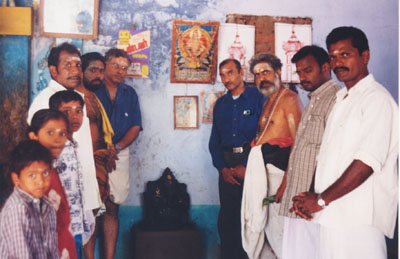 The Kumbhabhishekam (Ritual consecration and rededication of the temple after completion of repairs and restoration work) was performed on Monday 09/04/2001.
Representatives from almost all branches of the family found it convenient to assemble on Sunday at Srivanchiyam for this most auspicious of functions. The village folk at Srivanchiyam had booked a kalyana mantapam (Wedding Hall) for our stay, common mess etc. On the Sunday evening, we enjoyed short music recitals by members of the family including S.Rajam (Vocal), Vijay Siva (Vocal), Prameela Gurumurthy (Vocal), Kalpagam Balakrishnan (Veena) and B.S.Baradwaj (Veena), among others, who performed before the newly renovated shrine at Srivanchiyam. On the morning of Monday 09/04/2001, after a dip in the Gupta Ganga, we all participated in the Kumbhabhishekam. Here are a few photographs of our Vinayakar Temple taken on the morning of the Consecration. Once the actual function commenced, I had no time to take any pictures! If any of those who were there have photographs of the actual Consecration, I would very much appreciate their making copies available to me so I can upload them on this page.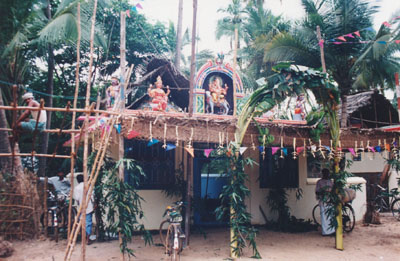 The renovated Temple ready for Kumbabhishekam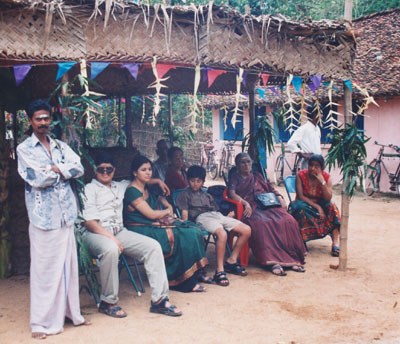 (L to R) Vanchi, one of the village headmen, Baradwaj, Dharma, Surya, Shantha (my mother) and Tara.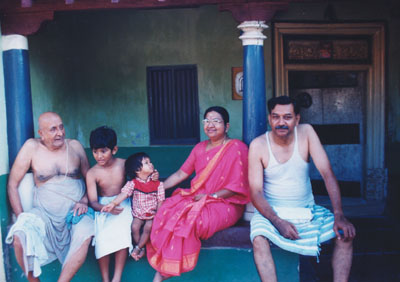 My paternal uncle Rajam (a musician and painter), my son Surya (with a local child who became attached to him), Premila and her husband Gurumurthy (Rajam's second son) resting on the thinnai of an agraharam house at Srivanchiyam after their bath in the Temple Tank
While we have not been able to make as frequent visits to Srianchiyam as we did in the run up to the Kumbabhishekham, we keep planning to travel there to pay our devout respects to our ancestral Vinayakar (whom Dharma and I have started thinking of as a venerable senior member of the family).
Our last visit was just before Suryas Upanayanam (thread ceremony) in 2002, when we were accompanied by my cousin Ramana (aunt Saraswathi's son) and his wife Jaishree. We performed abhishekham and laid the first invitation for the function at His feet. Here are the pics.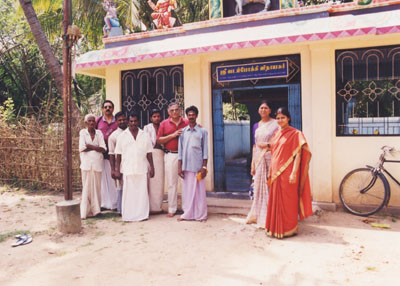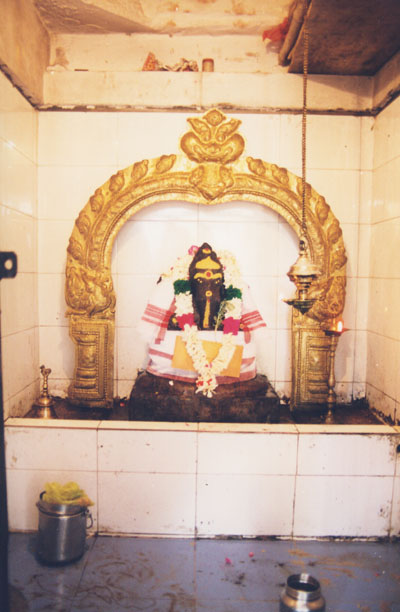 For those of you who have not been to Srivanchiyam yet, here are a few pictures showing the entrance Gopuram of the main temple and detail from the vimanam of one of the inner shrines.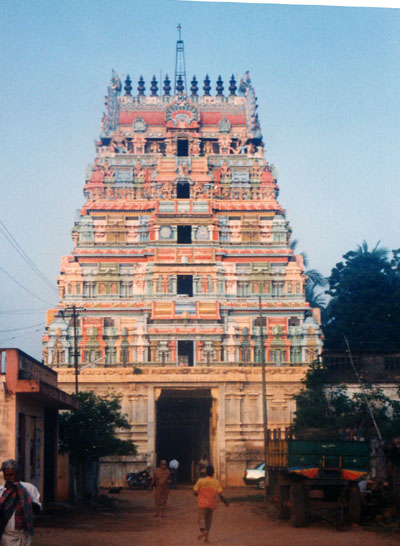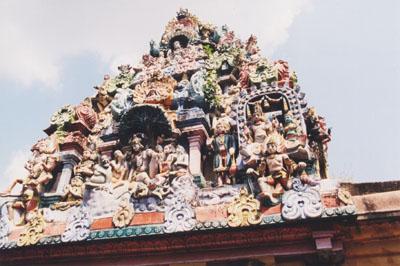 Srivanchiyam is 14 Kms from Kumbakonam and about 16 kms from Tiruvarur. Both Kumbakonam and Tiruvarur can be reached by train from Chennai and are the most convenient railheads.